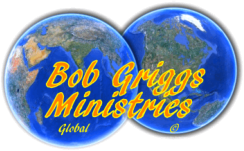 A Worldwide Bible-Teachin' Christ-Lovin' Network
Christ could return today... are you ready to meet Him?
Bob Griggs Ministries
P.O. Box 8233
Round Rock, Texas 78683-8233
bvgriggs @ yahoo.com
x
E stands for everybody, and your mobile devices.
At 81 yrs young, Dr. Bob still broadcasts to you and the
world. He is also caregiver to his precious wife, Verna.

aa27
only the menu buttons are clickable
only the menu buttons are clickable